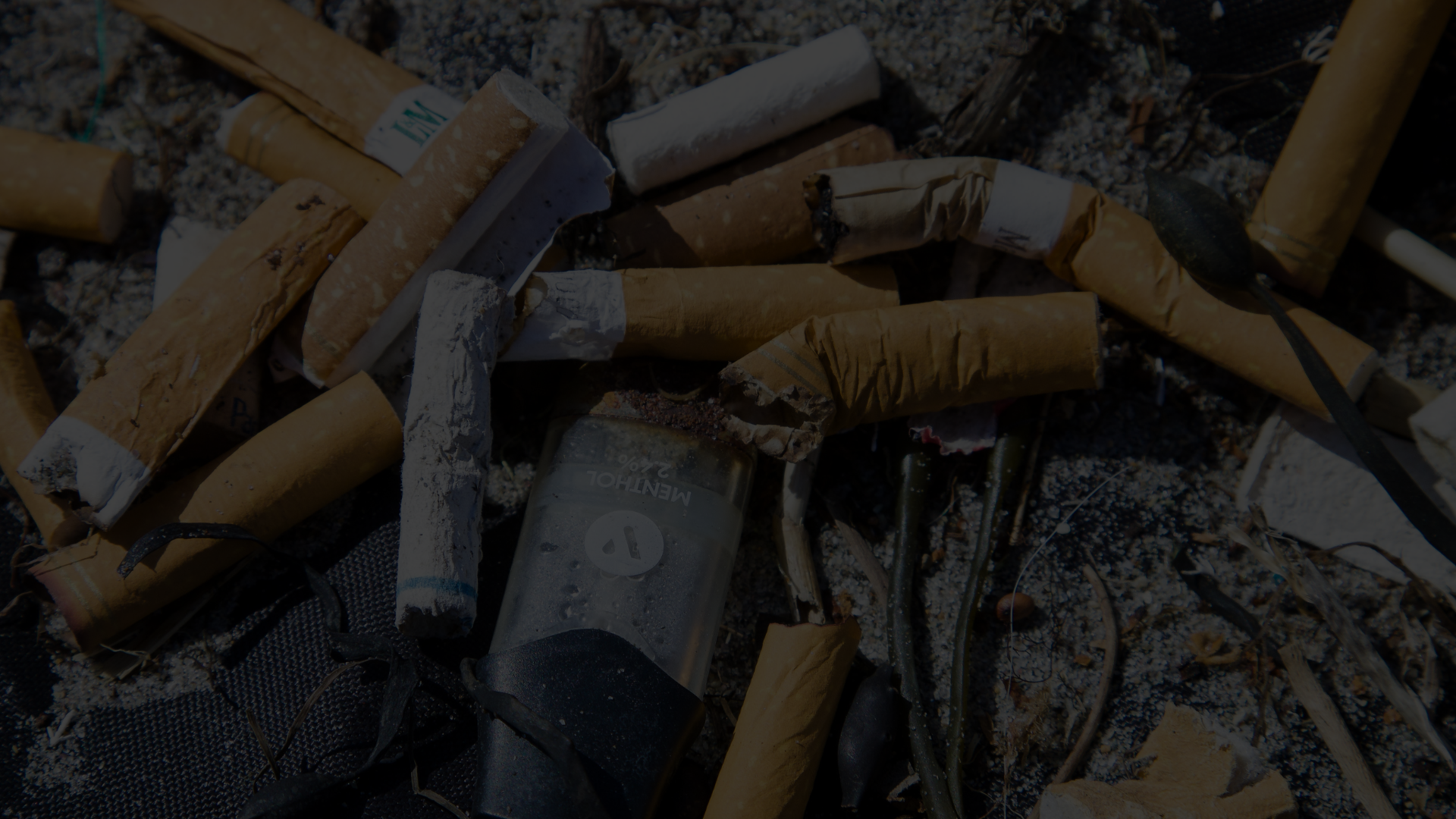 Hold On To Your Butt
Our program is heavily focused on the installation of ashcans, recycling of cigarette butts, and collection of cigarette waste at monthly beach clean ups. Cigarette butts accounted for 59% of litter items collected at our beach clean ups in 2016 and continue to be the most prevalent litter picked up during our beach clean ups. On average, 3,500+ butts are collected at these clean ups each month. Often littered on our sidewalks and streets, they end up in our storm drains and ultimately the ocean. We began installing ashcans with the help of partners and sponsors in late 2016. As of June 2022, there are ashcans located in Ventura (88), Oxnard (10) and Port Hueneme (22). Thank you to our partners and sponsors (listed at the bottom of the page) that have made this possible. If you're interesting in volunteering in our HOTYB program please shoot an email to hotyb@ventura.surfrider.org to get involved today!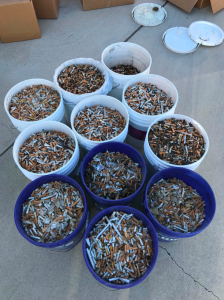 An estimated 4.5 trillion cigarette butts are disposed of in our environment annually worldwide
Cigarette butts leach toxins when wet, posing a threat to marine and wildlife.
Litter clean up costs the U.S. over 11 billion annually, cigarette butts represent an estimated 32% of that litter.
Cigarette butts are composed of cellulose acetate, a non-biodegradable plastic, which can take up to 25 years to decompose.
Littered cigarette butts pose a significant fire threat.
Our Chapter has recycled over 650,000 cigarette butts as of November 2022.
Community ashcans reduce cigarette butt litter and improve the quality of business districts for residents and visitors. The ashcans are affixed above the ground in high foot-traffic locations. All cigarette butts collected in the ashcans are recycled.
Your business, organization or family can become a "local partner" by sponsoring a Community Ash Can and immediately improve our community. Your sponsorship will help reduce the impact of cigarette butt litter on our oceans, waves, and beaches. You will be recognized on Surfrider Foundation's website and through other media outlets for your contribution to our community.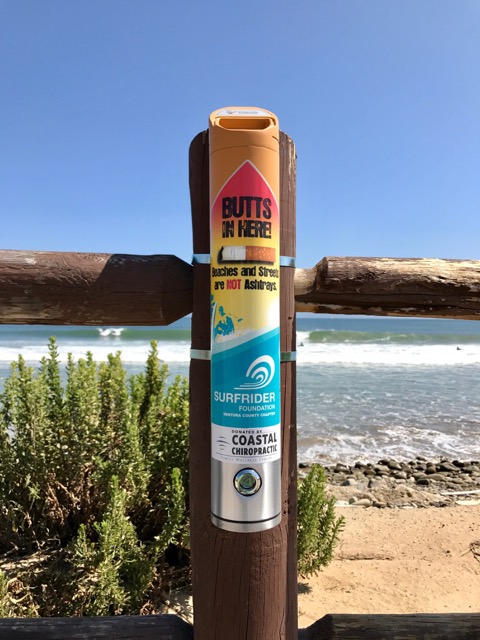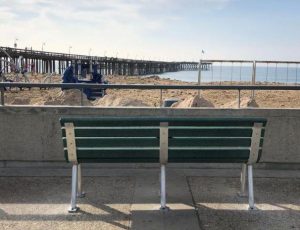 All of the cigarette butts that are collected in our ashcans and at our beach clean ups are recycled. We ship our cigarette waste to the recycler where the butts are melted into hard plastic that can be molded to make new recycled industrial products like the bench pictured to the left located on Ventura Promenade
COMMUNITY-SPONSORED ASH CANS
THANK YOU!

HUGE thanks to the following businesses and community members for sponsoring ash cans and helping us keep toxic cigarette butt litter off of our streets, out of our storm drains, and ultimately out of our ocean. Click on the logos below to navigate and explore these businesses.
Thank you to our Hold On To Your Butt Ashcan Sponsors:
Debra and Jerry McClelland (2)
Patty Maughmer
Adam Farer/Academy Promotions, Inc. (8)
Neighborhood Car Care
Joy Downing Riley and Mark Riley (3)
Joan and Jim Tharp
Adolfo Grajales Garcia
John Lombardo
Lisa Koch (3)
City of Ventura- Kellogg Park (3)
City of Port Hueneme through R.E.A.C.H. (12)
Deby Tygell honoring David Tygell's Environmental Dedication (3)
Greg and Ann Moore (2)
Tony, Jadalyn, Kyler, & Bryce Marciel
Ann & Bill McDonald
High Exposure Photography~Dina Pielaet
Rincon Brewery Inc.
Alan Durelester (13 ashcans!)
Alpha Kappa Alpha Sorority Inc. - Xi Kappa Omega Chapter, Oxnard, CA
Cher Nielsen Hair Design (5)
Coastal Chiropractic
Elaine Lin
Harvest Café (2)
Herald Printing, Ltd.
Kay's Coffee Shop
Leashless Brewing, LLC (3)
The Refill Shoppe (2)
Seabridge Marina (2)
Social Tap
Tony Suleiman, State Farm Agent, Port Hueneme
Topa Topa Brewing (3)
A Woman's Touch —Laura Oergel (planter ashcan at Social Tap)
Ventura Food Co-Op
Ventura Vacation Rental Association (8)
Zach Williams (2)
Ventura Children's Learning Center
Crowne Plaza (2)