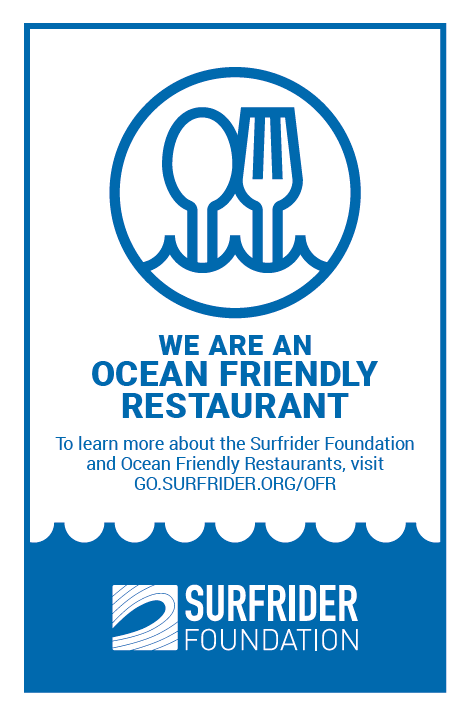 EPS foam foodware (cups, plates, 'clamshells', etc.) is a top item found at Surfrider beach cleanups. This EPS foam will NOT biodegrade in our lifetimes. It may photodegrade and/or break into small pieces if littered,making it harder and more expensive to clean up.
Animals can mistake EPS foam for food or nesting materials. Americans use an estimated 500 million plastic straws every day and restaurants use an average of 5,800 gallons of water per day.
Our Ocean Friendly Restaurant team is working hard to reach out to the Ventura community to educate, share resources, and support restaurant owners who are looking to make the switch to sustainable restaurant practices. You can help by letting us know what restaurants you would like to see become ocean friendly.
Your sustainable business practices not only help reduce waste in our landfills, also protects our oceans, and marine life waves, from urban pollutions such as Styrofoam, micro and single use plastics.
Being an OFR helps set an example to your employees and will enhance the image of your company as a positive contributor to the community and local environment.
Encourages employees to be engaged in sustainability and best practices
Benefits include: extensive branding and promotion opportunities Surfrider social media and newsletter shout outs, your logo highlighted below on our OFR webpage, promotion at community events and beach cleanups and collaborative promotions such as launch parties, or paid catering at our monthly chapter meetings
Your restaurant will show up on our Surfrider National database and could be featured in the monthly National OFR spotlight blog
Quickly browse the list for Ocean Friendly Restaurants in your neighborhood:
The OFR program recognizes restaurants that are committed to making sustainable choices for our ocean so people can dine with peace of mind. Contact OFR@Ventura.Surfrider.org for details and questions.
Mandatory Criteria (All 7 Required):
Only reusable foodware is used for onsite dining.*
Paper straws are provided only upon request.**
No expanded polystyrene use (aka Styrofoam).
No plastic bags are used for takeout or to-go orders.
Single-use utensils, straws, condiments, and other accessory items are provided only upon request.
Beverages are not sold in plastic bottles.
Proper recycling practices are followed.
* Foodware includes dinnerware, drinkware, silverware, and ramekins/containers.
** Exceptions may be made for naturally occurring materials (e.g. hay, bamboo) and reusables (e.g. metal, glass), not including bio-based plastic. Straws should be provided to anyone who needs one, including people with disabilities. Read more here.
Check out our Quick Guide for more tips to meet each of the criteria.
Review our Ocean Friendly Foodware Guide to learn about greenwashing, product alternatives, and creative ways to implement more reusables.
Optional Criteria (Choose At Least 3):
A discount is offered for customers with a reusable item (e.g. cup, container, bag).
Vegetarian and vegan food options are offered on a regular basis.
All seafood is 'Best Choice' or 'Good Alternative' as defined by Seafood Watch, or no seafood is served.*
Water conservation and pollution mitigation efforts are implemented.**
Energy efficiency efforts are in place.***
Concessions and pre-packaged food items are not sold in plastic packaging.
Composting efforts are in place for food waste.
Neither single-use plastic nor bio-based plastic containers are used for takeout or to-go orders, reusable containers are preferred.
* Locally sourced, sustainable seafood is preferred and should be prioritized when Seafood Watch recommendations do not apply.
** Examples include installing low-flow faucets and toilets, offering drinking water upon request only, no hosing down outside to reduce urban runoff, proper disposal of FOG, and up-to-date septic or sewage to prevent wastewater pollution.
*** Examples include switching to LED lighting, installing solar panels, using Energy Star certified appliances and/or other efforts to use less energy.