Rhapsodized in 1962 by the Beach Boys in Surfin' Safari, the Rincon Parkway on Highway 1 is unique to the Ventura County coast. Free vehicle parking and Ventura County Parks fee based RV parking is only a stone's throw from the riprap. Beyond the sand, viewers are likely to catch dolphin pods searching for perch in the waves, cormorants and brown pelicans diving for fish. Visible from the Rincon Parkway, 25 miles across the ocean are the Channel Islands, "the Galapagos Islands of the Pacific Coast," where isolated plants and animals have evolved uniquely, forming a wildlife corridor found nowhere else in the world.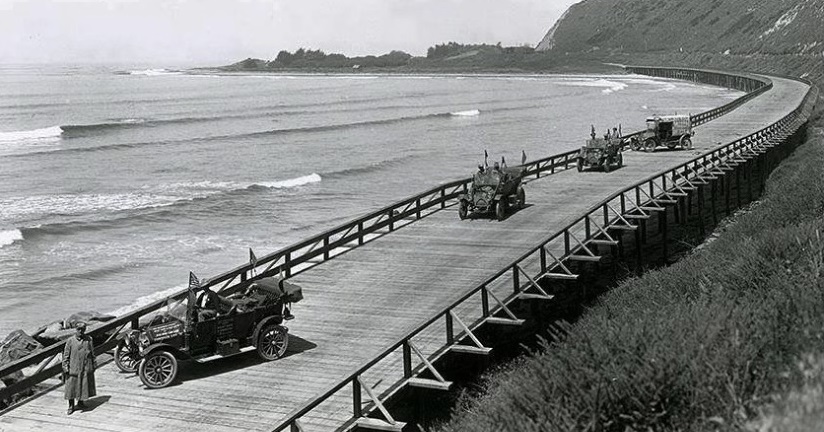 While the original 1913 roadway was composed of eucalyptus beams and asphalt which served as a traffic thruway from Los Angeles to San Francisco next to the tracks of the Southern Pacific Railroad,
the current accessibility of the Rincon Parkway as a roadside turnout for day use and an overnight RV camping site has become an environmental, recreational and coastal stress point.
Queen of the Ventura Coast
The Rincon Parkway has been under further pressure by increased public use and misuse, while erosion from winter tides has removed coastal purchases during the pandemic (as seen in photo). Sea level rise has arrived at the Rincon Parkway, and our beaches are disappearing.
On April 29, 2021, representatives from the office of the Ventura County Parks and District 1 Supervisor Matt La Vere presented to the Executive Committee of Ventura County Surfrider Foundation the County's short-term and long-term plan for improving conditions on the Rincon Parkway Day Use section.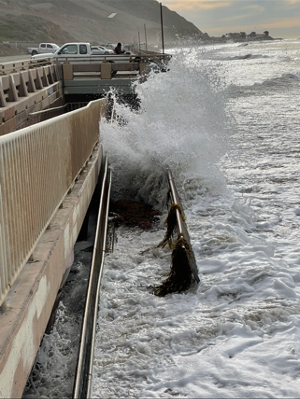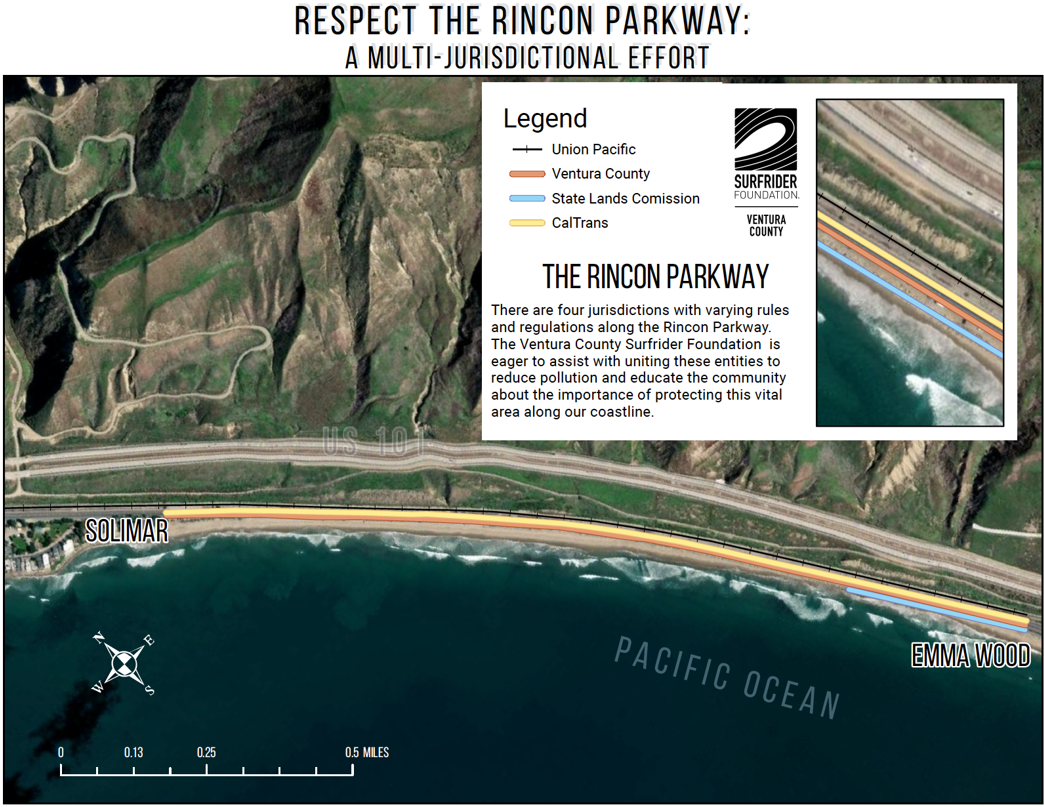 Short term – upgrading Rincon Parkway Day Use Parking Area with limited vehicle size, new signage, repaired curbs, new lidded trash receptacles, and commencing a "leave no trace" educational campaign.
Long Term
–Updating the 1984 Maintenance Agreement with CalTrans, Ventura County, and State Land Commission, and including a Coastal Bike Trail in conjunction with the passage of the County Plan and the 2022 CalTrans paving project of the Rincon Parkway.
Join us where the land meets the sea. RRP. Beach clean-ups are every second Saturday, 8:30 a.m. – 11:30 a.m. For more information, contact Joy at rrp@ventura.surfrider.org. For all beach cleanups, please wear:
Comfortable clothes
Closed toed shoes
Sunscreen
*If there is weather such as heavy rain or strong winds, we will post any cancellation updates to our Facebook page here.*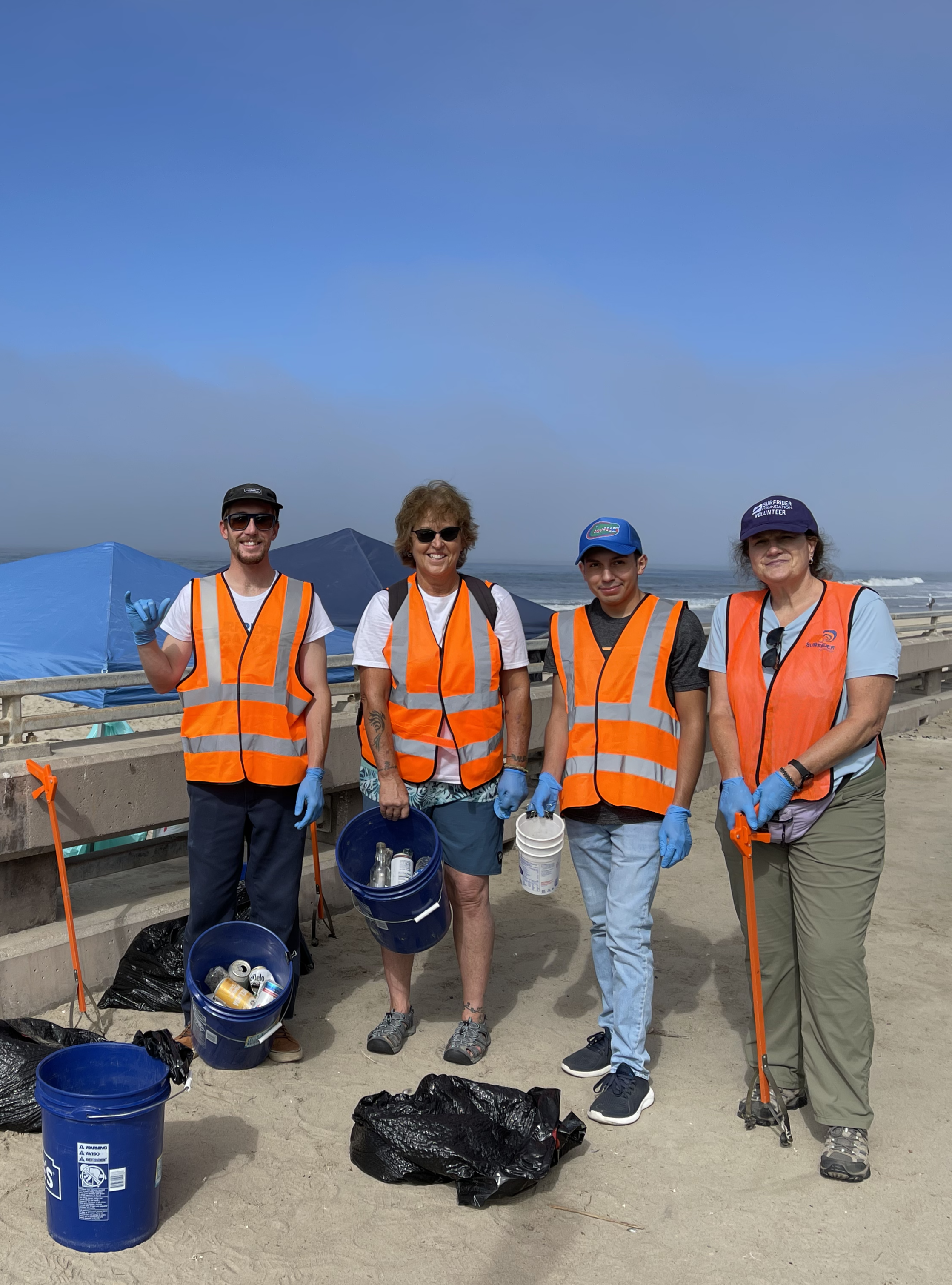 Things to consider when visiting:
The Rincon Parkway is a Parkway

not a Parking lot

. (Municipal Code 4505)

Please observe Leave No Trace Principles while visiting to protect the Channel Islands wildlife corridor, public health and your own good time.

Plan Ahead and Prepare: The Rincon Parkway Day Use section has no water.

Dispose of Waste Properly: The County dumpsters are far apart. Write

rrp@ventura.surfrider.org

for a free litter tote bag.

Leave What You Find: The beach is for everyone, even the sand gnats.

Minimize Campfires: Campfires are not allowed in Ventura County during drought.

Respect Wildlife: Please do not feed the animals. They will habituate to human food.

Be Considerate of Others: When it is busy, parking is limited. Drive with caution and observe the bike lane.
Important Resources
Report debris/encampments (888)-877-7267 to Union Pacific Rail Road

Caltrans refuse/debris in HWY

https://csr.dot.ca.gov
Black water dumping/illegal dumping – (805) 654-2311
Graffiti –

Jeri.Cooper@ventura.org – County Parks
Report a stranded, sick, injured sea mammal to Channel Island Marine and Wildlife Institute Hotline at (805) 567-1505 – Do not attempt a rescue or pull animal back into water. Sea mammals are federally protected and require special assessment and care.