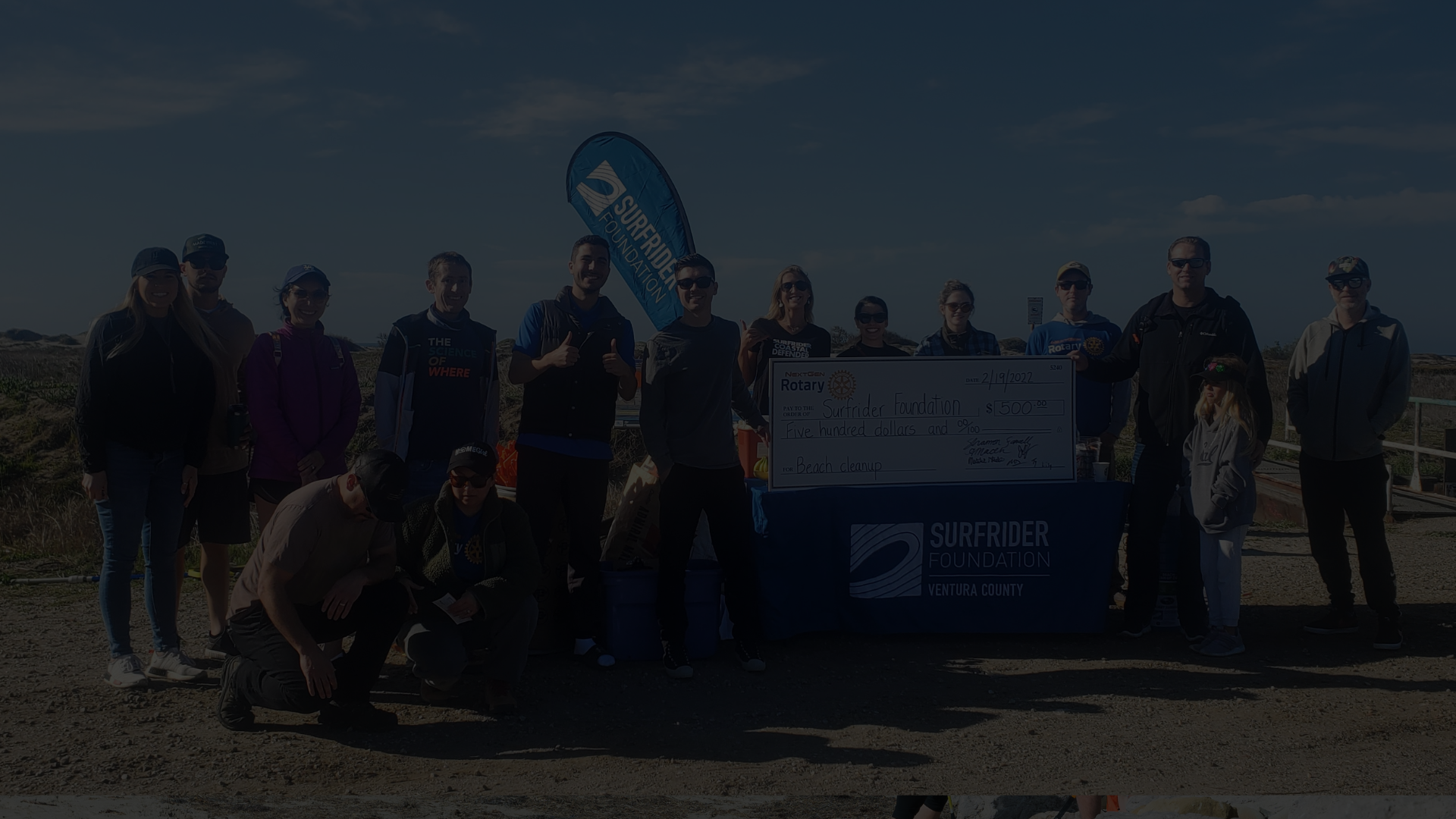 Donate and clean up the coast in Ventura, Oxnard, or Port Hueneme.
Email info@ventura.surfrider.org for more info or to set a date with us!

Help protect our oceans, waves, and beaches by sponsoring one of our monthly cleanups or hosting your very own! Sponsoring a cleanup helps establish your company as a good corporate citizen and foster brand loyalty. Cleanups can also be used to encourage employees to be engaged in their community, as well as strengthen employee team building and morale. Additionally, involvement in Surfrider corporate beach cleanups will enhance the image of your company as a positive contributor to the community and local environment.
Your company's tax-deductible donation to Surfrider goes directly to supporting our work to make sure our oceans, waves, and beaches are healthy, protected and preserved for generations to come.
Your company can make a positive difference in the community

Insurance, permits, waivers, an orientation led by our event host(s), Surfrider tent and
table(s).
Gloves, bags, buckets, grabbers, data cards, hand sanitizer, sunscreen and water.
Your cleanup event will be recognized on our social media platforms and will be listed in
our website as a clean-up sponsored corporation. We'll give you a shout out with the
total weight of trash collected.

Organizers will meet your group at the cleanup site to provide supplies, collect waivers, and dispose of trash afterward. The cleanup will last 2 hours.

Suggested Sponsorship Levels:
$500 - Defender Up to 20 people in your group. Also available as a discount to non-profit organizations, schools and the military. Contact us to see if your organization qualifies!
$1000 – Beach Defender Up to 40 people in your group
$1500 – Coastal Defender Up to 60 people in your group
$2000 – Ocean Defender Up to 80 people in your group
Contact chair@ventura.surfrider.org for all questions regarding sponsorship and discounts
Optional Add-ons:
Surfrider-branded Surfers Point Tees - $20/person
Surfrider-branded 30th Anniversary Tees - inquire for cost
Surfrider-branded Stainless Steel Pint – $10/person
Surfrider branded Reusable Bamboo Utensil Sets – $12/person
Commonly Asked Questions:
What beaches can my company do a cleanup at? - Depends on the group size and how far you'd like to travel! We typically recomend the Ventura Promenade for large groups, or Marina Park and Surfers' Knoll for smaller groups. If you're located in Oxnard, we recommend Ormond Beach/Ormond Lagoon for large groups, or the beaches surrounding the Channel Islands Harbor for small groups. Ultimately, it is up to YOU.
What dates can we book? Sponsored cleanups typically occur during the weekdays (Monday-Friday) from 9-11am. We recommend cleanups in the morning to avoid strong winds/sun exposure, but many organizations have still hosted their cleanups from 11-1pm or 12-2pm.
Can I bring my kids? - Yes! We encourage families and friends to get involved
Can I bring my dog? - At the Ventura Promenade, YES. Dogs are allowed on leash, but please bring extra water and doggy bags
Can our company bring our own tent/snacks/t-shirts? - Yes, you may bring all your own gear. We strongly discourage bringing styrofoam, single use plastics, and all other forms of plastics due to the prevalence of these items at our cleanups. Surfrider is happy to supply lists of local restaurants that use sustainable packaging such as our

Ocean Friendly Restaurants